Blog
What Makes a Great Community Health Worker?
When Sierra Leone's Ministry of Health and Sanitation began recruiting a new national cadre of community health workers in 2022, Fatmata Koroma was eager to apply. "We don't have a health facility," says Fatmata, who lives in the community of Ndogboi in Kono District. "Seeing the suffering of children and women in the community, health issues are many." A mother of two children herself, she wanted to help change this.
Fatmata is one of over 8,000 community health workers in Sierra Leone's new cohort—the first group to be trained in a fully integrated package of primary care skills. The revised curriculum, developed by the Ministry with partners including Last Mile Health, prepares community health workers to deliver a range of services, from antenatal check-ups to screenings for malnutrition and malaria. They'll bring care to the doorsteps of people living in Sierra Leone's most rural and remote regions, where a visit to a clinic often requires a journey of hours or even days—and a cost many families can't afford. Overall, the national community health program aims to serve a population of four million rural Sierra Leoneans.
But community health workers can't work alone: to provide high-quality care, they must be part of a strong health system. How do training and supervision equip community health workers for success—and what does that look like for Sierra Leone's new cohort? This is how those closest to the work explain it.
"We work as a team."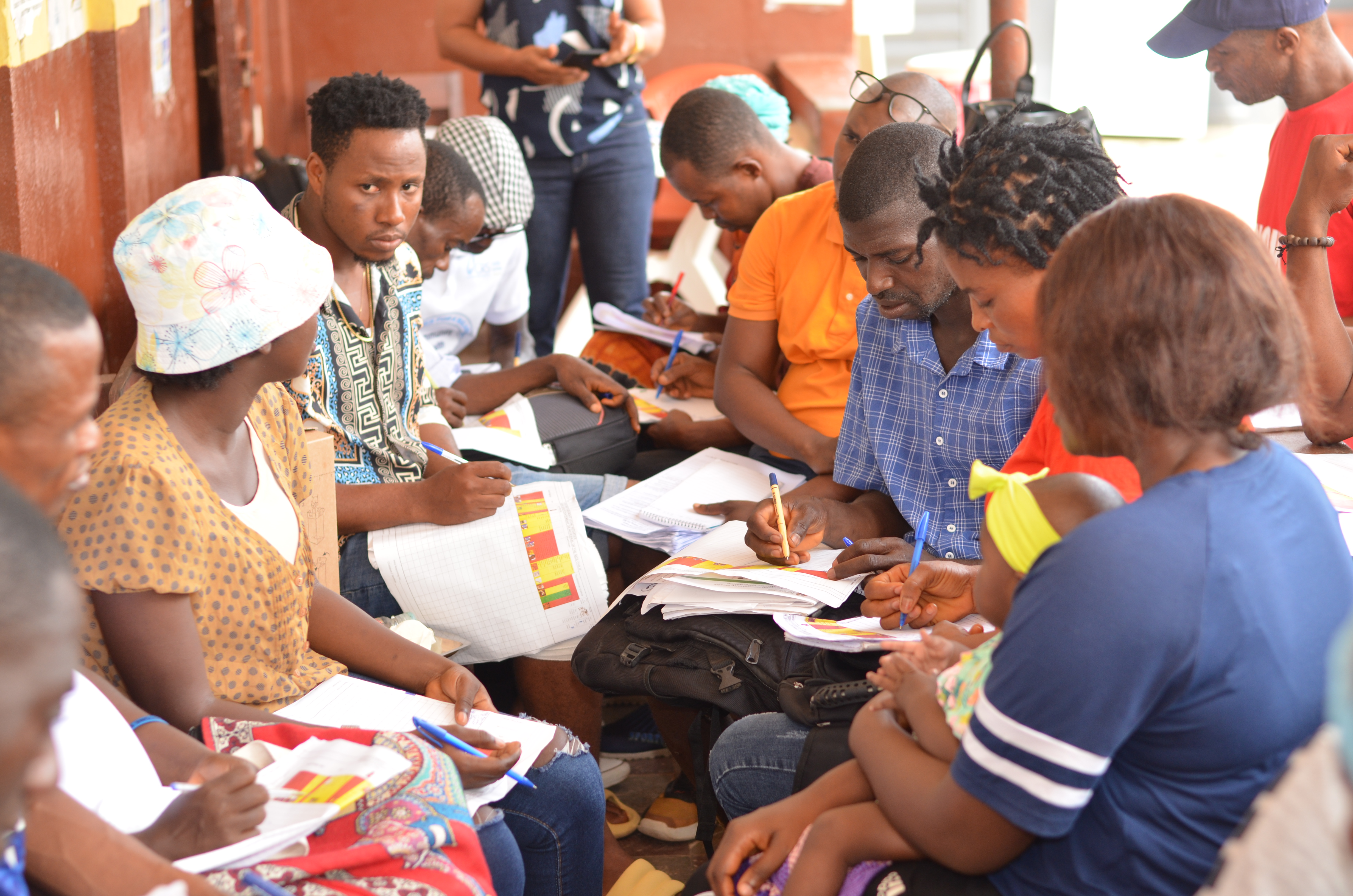 "There are many challenges: the transport, even the language barrier, but still we manage," says Aminata Faudia, a trainer and facilitator of the national community health worker program's curriculum. With training materials available only in English, Aminata and other trainers must translate into Krio or another of Sierra Leone's dozen-plus languages in order to make the content accessible to learners. "Our national supervisor and district focal person help us to solve the problems," Aminata says. "We work as a team."
To facilitate training, Aminata follows a standardized curriculum, leading new community health workers through each module of training to develop their skills and knowledge across key primary health topics, including maternal and child health, non-communicable diseases such as malaria, and major communicable diseases such as HIV and ebola. Every new community health worker completes 21 full days of training. "We go through a series of pre-tests and post-tests," Aminata says. "This lets us see that the community health workers are learning everything in the training. When the person has acquired new skills and training, they should know how to identify the illnesses and how to refer patients to the health facilities."
"You need to be vigilant, you need to be supportive."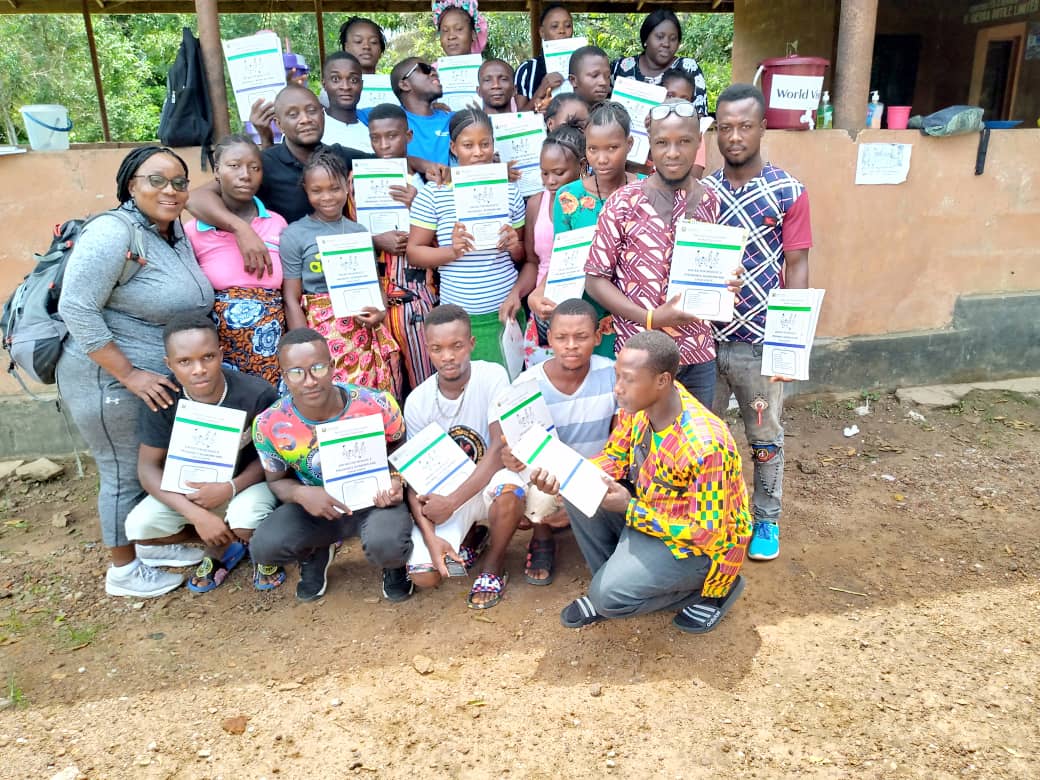 While trainers facilitate the curriculum, quality assurance officers like Joycelyn Suale conduct visits to training sites across Sierra Leone's 16 districts. "To ensure the quality, you have to be on the ground," says Joycelyn. "You need to be vigilant, you need to be supportive to ensure there is success. You have to see how the trainers carried out the training, if it has been carried out according to what the national standards have required. If things don't happen at the district level, they can't happen at the national level."
Joycelyn believes that every patient deserves quality care—which means every community health worker needs quality training and supervision. "Community health workers are number one in terms of the health chain to meet the person in the community," she explains. "But they have supervisors to guide them, and we support them by sending data for evaluation." Reports on learners' assessments help the Ministry and partners understand if training has been effective—and how the curriculum and its implementation might be improved for future cohorts. "If we have more people out there," says Joycelyn, "we ensure sustainability."
"I communicate with the community health workers."
Once community health workers receive training, they return to their communities to begin providing care—and supervisors like Augustine Kargbo ensure they continue to receive support. "I communicate with the community health workers when there are important issues to share," he says. "If there is any health issue they need to act on immediately—like when there is a cholera outbreak, measles, or yellow fever—the community health workers will communicate to me, and I will communicate to the disease surveillance officer. We are working as a team. I will visit and support them in their on-the-job training."
Supervision and training are key, says Augustine—and they go hand in hand. "I support them, giving training in tools that they lack," he says. "The more often you explain, the more they understand. They are not working alone."
"I will now be in the position to help my community.."
With a standardized and monitored training curriculum, regular supervision, and an integrated package of primary health skills, Sierra Leone's new community health workers are equipped for success. "They can work better, provide quality services," says Elizabeth Musa of the Ministry of Health and Sanitation. "The patients are seen earlier, treated earlier. If they can do something at an earlier stage, disease and disability will be reduced."
For new community health workers like Fatmata, the training and support she receives will help ensure she provides the best possible care to her patients. "I am happy to become a community health worker, and I'm happy about the training because I know I will learn a lot of things I didn't know before," she says. "I will now be in the position to help my community."