Blog
Protect Health Workers with Climate-Resilient Water, Sanitation, and Hygiene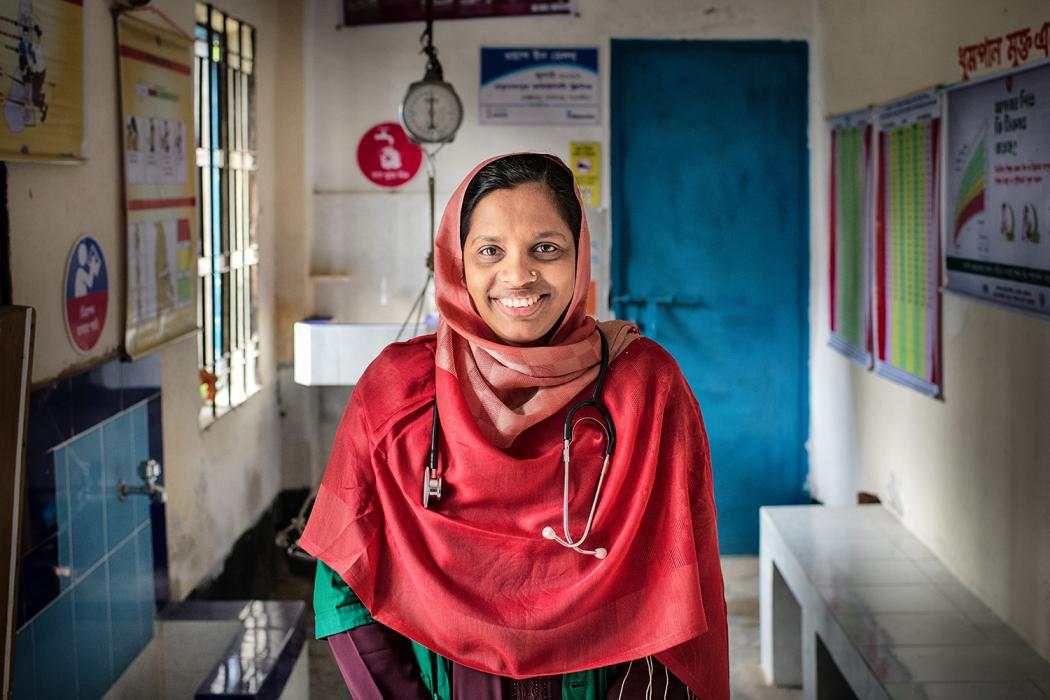 Rahima is a health worker at the Raghunathpur Community Clinic in Bangladesh where she works seven days a week providing prenatal and infant care. Her clinic is the only one in the region that offers free health care for expectant mothers. Often, patients must walk long distances with small children to get to the clinic and they arrive thirsty. For years, the clinic had one toilet that didn't work and no clean water nearby for handwashing or drinking, so she had to share water she brought from home with her patients.
Rahima's working conditions are still far too common. Globally, 1.7 billion people still lack running water at their health care centers, and it puts frontline workers and patients at risk. 
Most people understand that fair pay, proper training, and quality personal protective equipment are essential for frontline health workers to effectively do their jobs. But clean water, decent toilets, and access to soap for cleaning and handwashing are equally important, and they are key to preventing the spread of infections and diseases like cholera. 
Climate change is making a bad situation worse
While COVID-19 occupies many of the headlines, health experts are expressing alarm at a resurgence of cholera around the world, reversing years of declining infections. Rahima works less than one hundred miles from Bangladesh's capital city of Dhaka, which suffered its worst cholera outbreak in sixty years in 2022. At its peak, more than 1,200 people per day were hospitalized. Climate change is now recognized as a major contributing factor in the resurgence of this deadly disease, and the severity and frequency of outbreaks are intensifying. 
According to Arielle Nylander, WaterAid's Senior Health Policy Analyst, "Among the usual contributing factors like poverty, weak infrastructure, conflict, and humanitarian crises, climate shocks are increasingly driving multiple severe cholera outbreaks and posing an enormous challenge to effectively controlling and ultimately eliminating this disease in 2023 and beyond."
Rahima's community, home to 30 families who are mostly dependent on fishing and farming, is already experiencing the consequences. The community is in a remote village nearly two miles from the nearest clean water supply. They are vulnerable to climate hazards like rising temperatures, flash floods, intense tidal surges, heavy wind during tropical cyclones, and rising salinity making the water unsafe to drink.
Climate-resilient solutions
Walking several hours every day to collect water for drinking, handwashing, cleaning, and caring for expectant and new mothers is unacceptable. There is a proven model for fixing these problems through sustainable water, sanitation, and hygiene services, but it requires buy-in from an entire network of people and organizations–from local communities to the highest levels of government.
From March to December 2022, WaterAid and its implementing partner, Rupantar, installed climate-resilient infrastructure in Rahima's community, including an underground rainwater reservoir that preserves water for up to a year, protecting against sudden flash floods and tidal surges that contaminate water supplies. WaterAid also installed toilets and handwashing stations and promoted the benefits of handwashing with soap. 
Now Rahima's clinic has water on-site for drinking, handwashing, and cleaning, and toilets for patients and staff.  
"The water we preserved in the rainwater harvesting plant can be used for almost a year," says Rahima. "This was unimaginable in the past. [Patients] now clean their hands after using the toilet. Pregnant women are now more careful about hygiene practices, which helps to save the unborn children."
A collective call to action
"It's important that governments invest in long-term clean water and hygiene interventions in their countries," says Dr. Patrick Otim Ramada, Africa Incident Manager for Cholera Response with the World Health Organization. "This is a multi-sectoral effort, not only a health issue. It requires, like we did for Covid, a whole governmental response so that governments really prioritize and invest in interventions that increase the availability of safe drinking water and hygiene facilities for populations in their countries in the region."
This year, World Water Day falls on the same day as the UN Water Conference, the first water-focused conference held by the UN since 1977. While global representatives from governments, the private sector, and nonprofits gather, there's no better time to commit to future disease prevention. Let's care for frontline health workers like Rahima and give them the tools they need—access to clean water, sanitation and hygiene—and build systems that keep us all healthy.