Blog
How the Three UN Global Health Declarations Support Health Workers
From the front lines of a pandemic to the daily delivery of essential services to control communicable diseases, health workers play a pivotal role in safeguarding the well-being of communities worldwide. Their dedication and tireless efforts to provide care to communities—particularly during times of crisis—are indispensable. 
The 78th Session of the United Nations General Assembly last month was unprecedented in the spotlight given to global health issues, with three high-level meetings on pandemic preparedness, prevention, and response; universal health coverage; and the fight against tuberculosis. However, disparities emerged in how health workers were characterized and represented across each of the Political Declarations that resulted from the meetings. 
Now, more than ever, it is imperative to prioritize health workers' roles in global health efforts. Unprecedented proposed budget cuts for humanitarian and foreign assistance programs and the challenges of PEPFAR reauthorization underscore the urgent need to reaffirm our commitment to health workers, ensuring they receive the vital support and resources to address global health crises. 
Here is a comparison of how the importance of health workers is characterized in each of the Political Declarations. Do they go far enough in addressing the urgent level of support needed for the global health workforce?
---
Pandemic Prevention, Preparedness, and Response (PPPR)
Although the PPPR political declaration lacked strong commitments and measurable outcomes, health workers were explicitly acknowledged as "fundamental to strong and resilient health systems and communities to prevent, prepare, and respond to pandemics." The declaration called for robust measures to ensure their safety and protection, strengthen the participation of women health workers in decision-making processes, and advocated for comprehensive mental health support services for health workers. 
Dr. Tedros Adhanom Ghebreyesus, WHO Director-General, echoed the spirit of the declaration at the first-ever head of state summit on PPPR, describing how stronger clinical care systems require a shift towards primary health care and "robust, trained, and equipped health workers." This is crucial: investing in the development and retention of a skilled health workforce is one of the most concrete ways to prepare and respond to future global pandemics.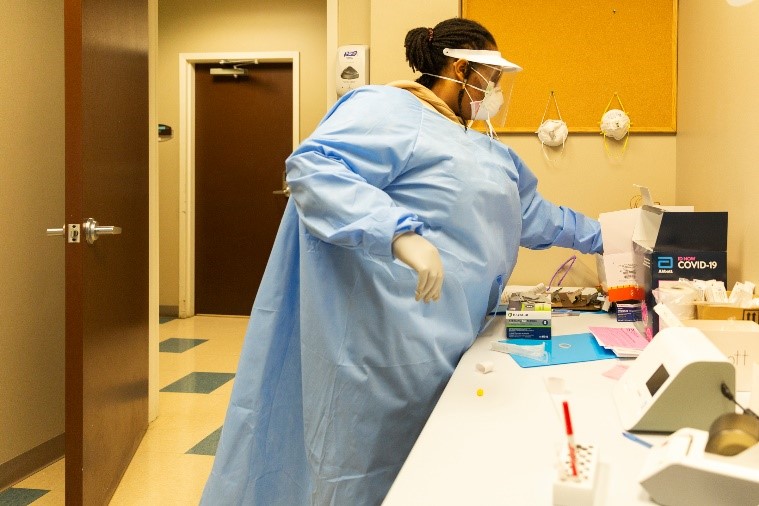 A health worker administering COVID-19 tests at a charitable clinic ­­­­­Project HOPE partners with in Atlanta, Georgia. Photo by Emily Nichols for Project HOPE, 2022.
 
---
Universal Health Coverage (UHC)
Frontline health workers encompass the group of workers that directly provide health services to people. Community health workers (CHWs) are often the sole providers of care for rural communities and are undercompensated, unaccredited, and under supported. The Political Declaration for UHC was the strongest in terms of supporting the critical role of all health workers, including the need to improve working conditions to ensure their safety from all forms of violence and inadequate infection controls and protections.
The declaration went further to encourage "equitable distribution of qualified health workers, including CHWs, in rural, hard-to-reach areas and underserved areas and in fields with high demands for services." Even though CHWs play an active role within the health system, they often remain unnoticed in national and subnational policies, strategies, and budgets. However, the UHC Political Declaration recognized the central role that community health workers play in providing health care for all. The following CHW best practice priorities were addressed in the resolution: 



Source: Adapted from Skoll Foundation, https://skoll.org/2018/01/03/collective-action-amplify-community-health-worker-models/

With approximately 4.5 billion people – or roughly half the world's population – lacking access to health care services in 2021, the urgency of expanding health service coverage has never been more apparent. As emphasized by Dr. Tedros, achieving UHC hinges on a significant political commitment that entails substantial investments in primary health care. Strengthening support for CHWs, who serve as a vital link to communities beyond the reach of established health systems, is central to achieving UHC. 



A member of one of Project HOPE's Mobile Medical Units in Ukraine providing care to a resident of Prymorske village in Zaporzhizhia oblast, which is 12 kilometers from the conflict. Photo by Nikita Hlazyrin for Project HOPE, 2023. 
---
Fight Against Tuberculosis (TB)
The TB declaration had some of strongest language of the three in its commitment to reach 90% of people with TB prevention and care services by 2027 and to novel TB vaccine and drug development. Despite this momentum, the declaration only minimally acknowledged the contributions and future potential of health workers in the fight against TB. 
The mention of health workers was even more lacking during the tuberculosis high-level meeting. This is particularly surprising, given the technical push to significantly expand TB diagnosis and treatment at the community level. Health workers also have a very important role in coordinating, collecting, and documenting data related to vaccine and drug trials. It is imperative that we not only acknowledge their efforts in global TB elimination efforts but also provide the necessary support, resources, and recognition they deserve. 
---
Member States approved the three Political Declarations, and civil society and advocates can leverage them to push for more recognition and concrete commitments for health workers to improve global health. To translate language in the Political Declarations into tangible outcomes, there is an urgent need for countries to make concerted efforts to train, equip, effectively deploy, and support health workers and invest in primary health care, especially in regions like Africa and the Eastern Mediterranean that have the greatest shortages. This approach is necessary to ensure equitable access to health care for the communities most affected by pandemics, a lack of health services, and TB—taking us one step closer to achieving UHC.  
---
Urvi Chowdhury is the Health Policy and Latin America and Caribbean Program Specialist at Project HOPE, a global health and humanitarian aid organization whose mission is to place power in the hands of local health care workers to save lives across the globe.