Blog
Frontline Health Workers Coalition Releases Revised COVID-19 Policy Recommendations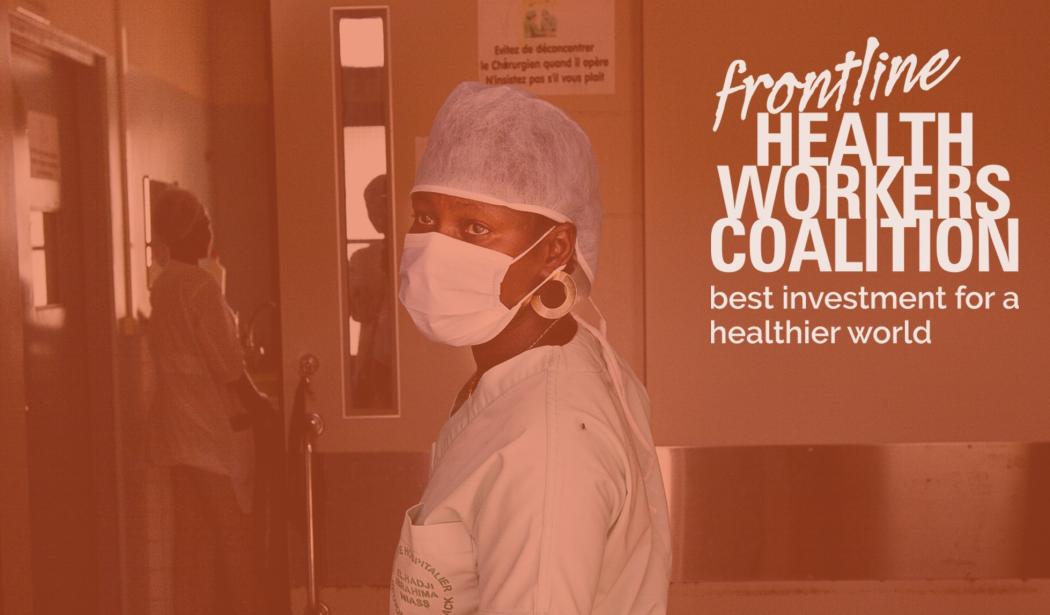 Governments, donors, and implementing partners should take urgent action to address the current needs of frontline health workers in low- and middle-income countries.
---
Last week the Frontline Health Workers Coalition published updated Policy Recommendations for Sustainable Health Workforce Teams to Respond to COVID-19 to reflect the current reality in low- and middle-income countries—eight months since the WHO declared the COVID-19 pandemic.
Health workers remain at the forefront of the global COVID-19 response, treating and caring for COVID-19 patients while still responsible for delivering essential health services. At least 44,000 health workers in Africa, 12,000 health workers in Asia, and 570,000 health workers in Latin America and the Caribbean have been infected with COVID-19, threatening their lives and overall health system capacity.
Ninety percent of countries have experienced disruption to essential health services—including maternal and child health, HIV, family planning, and nutrition services—with low- and middle-income countries reporting the greatest difficulties. And even before the pandemic, the world faced a global shortage of 18 million health workers by 2030, mostly in low- and middle-income countries.
The coalition's revised recommendations call on governments, donors, and implementing partners to take urgent action to address the most pressing needs of frontline health workers, including:
National health workforce planning, including COVID-19 vaccine deployment
Occupational safety, including ensuring appropriate personal protective equipment (PPE) for all frontline health workers and prioritizing health workers to receive the vaccine
Support for health workers' well-being, including their mental health
Surge staffing
Education and training
Real-time health workforce data for decision-making
Addressing gender-specific inequities
Addressing stigma and violence against health workers.
These actions will also strengthen national health systems by making them more resilient and ready to prevent, detect, and respond to future global health threats.
The updated recommendations focus on policy changes and investments needed, including commitment of new, long-term funding for frontline health workers as part of COVID-19 response.
Several suggestions specifically target US global health programs, including:
Supplementing global health funding with an emphasis on investments needed in the workforce and systems so the COVID-19 pandemic does not set back efforts in other global health programs.
Lifting any restrictions on US foreign aid funding that inhibit needed support, including salary support, to strengthen the frontline health workforce.
Working with other governments and the WHO to coordinate PPE procurement to ensure equal access to needed supplies.
Releasing a cross-agency, multi-year strategy detailing how agencies will utilize existing flexibilities to implement integrated and cross-sectoral programming across global health accounts to strengthen local frontline health workforce teams and the systems supporting them.
The Frontline Health Workers Coalition will use the revised recommendations as the basis for its advocacy for COVID-related emergency funding—via a supplemental bill or regular appropriations—to Congress, outreach to the Biden Administration transition teams, and meetings with Congressional staff.
The coalition, along with the Global Health Council, has been pushing for:
At least $20 billion in emergency funding for a global response to the COVID-19 pandemic, including at least $11 billion for bilateral global health funding and the multilateral response, as well as:


At least $500 million in global health funding to assist partner countries in addressing challenges facing the frontline health workforce, which is critical for keeping all communities safe, and
At least 10% of global health funding to be allocated to assist partner countries in building and strengthening their health systems capacity to respond to COVID-19 and to provide quality essential health services to all.
Congress is back in session this week and remains divided on the way forward on COVID-19 relief. It is possible that a supplemental funding bill will not pass and that COVID-related funds could be integrated into regular appropriations for the upcoming fiscal year.
We urge Congress to reach a deal and provide at least $20 billion in emergency supplemental funding for #GlobalHealth development and humanitarian programs. The #CostOfInaction is too great.
The coalition invites you to pull from or reference these recommendations in your advocacy and communications to push for increased investment in frontline health workforce teams. 
The Frontline Health Workers Coalition is an alliance of 38 United States-based organizations urging greater and more strategic investment in frontline health workers in low- and middle-income countries as a cost-effective way to save lives and foster a healthier, safer, and more prosperous world.
Coalition members working with low- and middle-income countries to strengthen national health workforces contributed to these revised recommendations.