Blog
Crystal Lander Is New Chair of Frontline Health Workers Coalition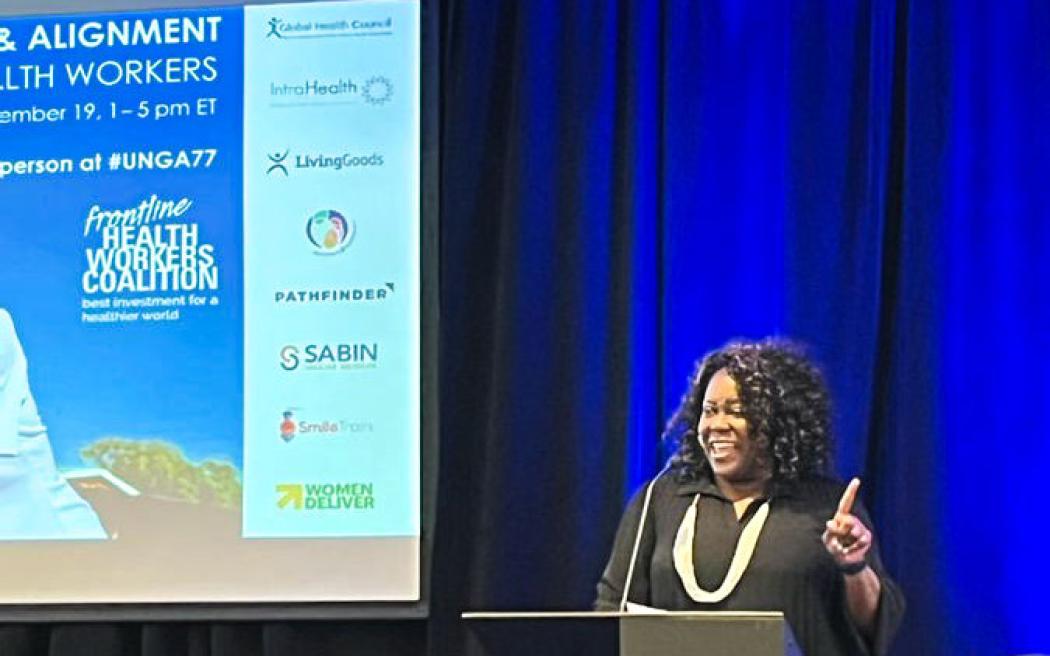 The Frontline Health Workers Coalition welcomes Crystal Lander of Pathfinder International as the new chair of its member-led Steering Committee. She is the fourth chair of the Coalition, following Mary Beth Powers of Save the Children, Julia Bluestone of Jhpiego, and, most recently, Kate Greene of Abt Associates.
"I look forward to serving as chair of the Frontline Health Workers Coalition and partnering with our members to advocate for payment, supplies, support, and protection for health workers around the world," says Crystal Lander. "At Pathfinder, we know health workers are the backbone of the health system, and we have a long history of supporting their professional development. It is so important for women and young people to have health workers in their communities who are unbiased so that they can make informed choices about family planning and other health care."
Lander is an experienced senior policy and development expert and has been active in the Coalition since its inception in 2012. As chief strategic engagement officer at Pathfinder, she is part of the global leadership council; manages the global advocacy, communications, and external engagement teams; and helps lead the organization's country-led strategy, strategic partnerships, and revenue generation. Previously, Lander developed and led the advocacy units at Living Goods and Management Sciences for Health.
The Frontline Health Workers Coalition is now an alliance of more than 40 organizations urging greater and more strategic US and multilateral investments in frontline health workers in low- and middle-income countries. Frontline health workers–including nurses, midwives, and community health workers–are critical for global health security, emergency response, mitigating climate change, and reaching universal health coverage. But to be effective, they need more support. The health worker gap is growing globally, due to loss of life during COVID and health workers leaving their positions or migrating because of poor working conditions, inadequate pay, lack of respect and recognition, and more.  
Lander will build upon Kate Greene's four-year term as Chair. Under Greene's leadership, the Coalition pushed for the US and other governments and donors to take specific actions to address the most pressing needs of frontline health workers during the COVID-19 pandemic and beyond, including to allocate funding for health systems and health workforce strengthening, ensure decent work and fair pay for all health workers, and enact gender responsive policies to train and retain more health workers. The Coalition homed in on the needs of women and community health workers, who are crucial for community-level delivery of health services. Greene oversaw improvements to the Coalition's diversity, equity, and inclusion, including the launch of Regional Advisors to provide input on the Coalition's policy and advocacy work.
"This is an exciting time for Crystal to take the reins of the Coalition," says David Bryden, director of the Frontline Health Workers Coalition. "Health workforce advocacy is clearly working, and now we are calling on policymakers to follow through on their commitments. Over the past year alone, the Biden Administration launched its Global Health Worker Initiative to protect health workers, address shortages, and promote equity. Africa CDC and the African Union formed the Health Workforce Task Team to define health workforce needs and targets for the continent. The Pandemic Fund's first round of funding will prioritize country projects to strengthen health workforce capacity."
As Chair, Lander plans to amass Coalition members' rich technical expertise and data on health workforce strengthening to further influence decision-makers at the global, regional, and country levels. She will focus on growing membership and diversifying funding to expand the Coalition's activities. In the US, the Coalition will continue to push for implementation and funding of the Global Health Worker Initiative and offer health workforce recommendations for USAID's new Primary Care Impact initiative. The Coalition will also pursue many upcoming multilateral opportunities, including participating in and holding a health workforce advocacy session at the Fifth Global Forum on Human Resources for Health in April.
Kate Greene remains on the Steering Committee as an At-Large member. Sarah Lindsay from Living Goods, Margarite Nathe of IntraHealth International, and Corinne Paul of CARE join the current members of the Steering Committee. IntraHealth International will continue to lead the Frontline Health Workers Coalition Secretariat.
Help the Coalition Advocate for Health Workers!
Organizations interested in global health and health workforce advocacy can apply to be a member of the Frontline Health Workers Coalition. Donors can provide funding to grow the Coalition's activities or sponsor events. Everyone, especially health workers, can participate in World Health Worker Week from April 3 - 7–an annual advocacy movement amplifying health worker voices and recommendations and reaching millions of people. Please contact us to discuss partnership.